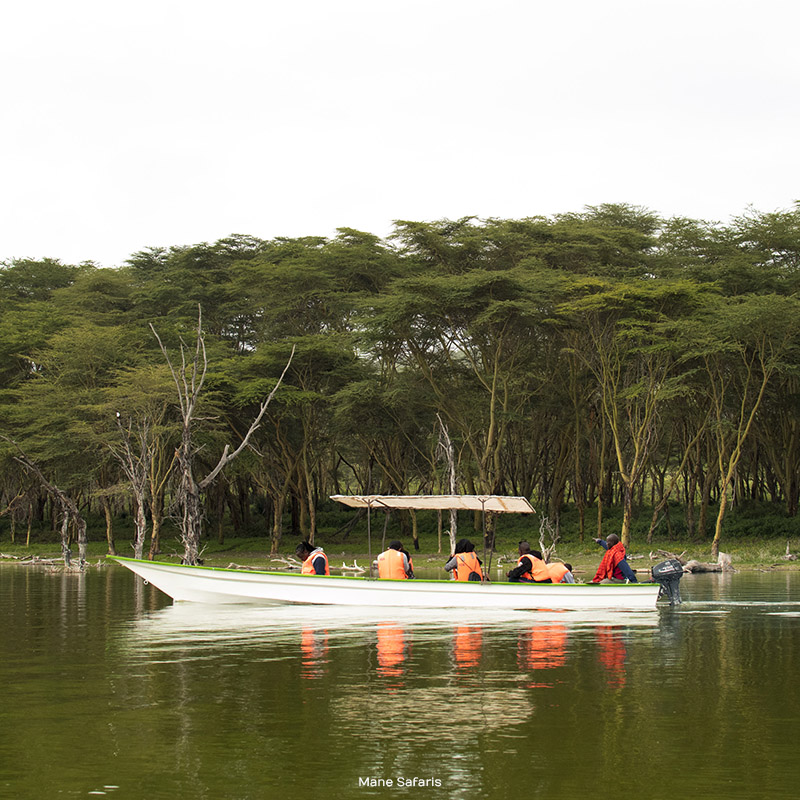 Lake Naivasha Boat Ride, Crescent Island, Hell's Gate & Mt. Longonot
Lake Naivasha is the only fresh water lake that lies on the Great Rift Valley Escarpment in Kenya. It has popular attraction sites like Mt. Longonot, Crescent Island and Hell's Gate National Park.
Boat Ride at Lake Naivasha
[metaslider id="1251″]
Lake Naivasha is known for its abundant birdlife at the shores of the lake. Bird watchers will enjoy over 400 species of birds while at Lake Naivasha for a boat ride. Some of the birds that you will see are; White Great Egret, Yellow-billed Stork, Heron, Kingfisher, Fish Eagle, Cormorant, Pelicans, Lesser Flamingo, Saddle-billed Stork among others.
Crescent Island Guided Tour
[metaslider id="1259″]
Across the lake, is Crescent Island where you will be able to see small game like zebra, giraffe, impala, grant's gazelle, thomson's gazelle, wildebeest, waterbuck and buffalo. This is a relatively small Island that you can walk and enjoy wildlife in close proximity, with your tour guide.
Hell's Gate Bicycle ride
[metaslider id="1255″]
Few kilometres from Lake Naivasha is Hell's Gate National Park.
A small park that you can either explore on foot, bicycle ride or at the comfort of you safari vehicle. You will experience wildlife up-close while on your bicycle riding through the wild. Wild animals seen here are; African buffalo, zebra, eland, hartebeest, Thomson's gazelle and baboons. You can also sight klipspringer antelope and Chandler's mountain reedbuck if you are lucky.
You can also hike the gorges at Hell's Gate when its not raining.
Mt. Longonot
[metaslider id="1266″]
Longonot Mountain is a fascinating inactive volcano that overlooks the beautiful landscape of Lake Naivasha area in Kenya. Rising to 2700m above sea level.
A hike on this mountain is worth your time and money as you will keep fit and connect with nature. You will most likely see zebra, giraffe, impala, buffalo, thomson gazelle and hartebeest.
---
Would you like to visit Lake Naivasha and explore these amazing attraction sites? Hit my email hi@muradswaleh.co.ke and I will organize with you what works best for you.